So, after being inspired by Amy over at
'100 Changes for the Better'
I have been trying to make my own '100 Changes'. So, a few weeks ago I started unplugging some of the appliances that weren't in use in order to stop them from drawing extra power (even when they're off). All was going fine as I quietly continued to unplug everything in sight, until last night my husband asked me about it.
T: "Why do you unplug the coffee maker every day?"
M: "Oh, to help cut down on power usage."
T: (after near-fainting, pulling his hands through his hair - classic stressed-out Trent manoever by the way, and gesturing towards the sky at his higher-power, who, I am sure would be on my side about this issue, but anyways...) "You're kidding right?"
M: "Nope."
T: (more incredulous gesturing, and then, composing himself) "Well, I would appreciate it if you would stop it okay?"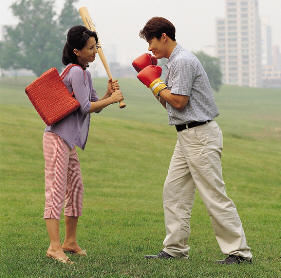 Now, I am reknowned for my inability to function in the mornings, especially before my coffee, which, he kindly makes for me every morning and often brings me a cup just to get me out of bed... think Folger's commercial (don't worry, we don't drink Folgers).... So I ask you... is this really worth the fight?
Sorry earth, we are letting him have this one...
Pick battles big enough to matter, small enough to win. ~
Jonathan Kozol
Ciao!
Marebare xoxo